Sunday, March 22, 2009
Just not over here!

Come visit me & see what's going on over at The Bear and Roo.

Cara
Thursday, March 19, 2009
I've been having a lot of trouble with this site, so I've created a new blog.

Please follow me over there!

The Bear and Roo
Wednesday, March 18, 2009
Urgh. It's getting close to that time. Time for the dreaded double stroller.

For the past 6 months I've managed with Bear's behemoth Graco Quattro (WTH was I thinking? Really?) & a sling for the fat man. Or, if the Hubband is along for the ride, we take the beast for Roo & the umbrella stroller for Bear.

I plan on getting a more comfortable sling for Roo, to try & avoid the double for a little longer. Totally lurved the ring sling up until about the last month. It's getting to be too much for my shoulder & back.

One of my mom friends has turned me on to the Sleepy Wrap, which I'm planning on getting so that I can still carry Roo on quick trips.

But with summer coming up & lots of outdoor time planned, I can't really expect to carry Roo constantly. Hello heat rash. I know I can't trust the Bear to walk independently for anything more than a quick trip, so it seems my best option for when it's just the 3 of us (which it is about 99.9% of the time) is to invest in another friggin' stroller.

So my question to you, internet, is: what has been your preference in doubles? I've narrowed it down to 3 options, so I'm looking for a little feedback in what other people have found that works for them.

And puh-lease. Please do NOT suggest the Graco DuoGlider. Just looking at that monster makes me want to cry.

Here's what I've found:

Chicco Trevi Twin Stroller: I like this one for it's smaller size & the fact that it's lightweight. Downside? I worry about being able to fit through doorways since it is a side by side.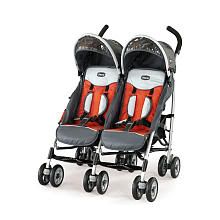 Baby Trend Double Sit-n-Stand: I picked this one over the other Sit-n-Stands that don't offer the back seat, just the bench & handle bar for the kids because Bear still enjoys riding in the stroller & again...not sure she is ready for the amount of independence that would come along with not being IN a seat.




InStep Suburban Safari: I've heard a lot of positives about a jogging stroller versus the traditional 4-wheeled strollers-ease of maneuverability, comfort, weight, etc. Again, though, same as the Chicco-would it fit through a doorway? Also, how compactly does it fold up? The Graco monster I currently own takes up almost the entire back of my Jeep, so that's definitely an issue for me.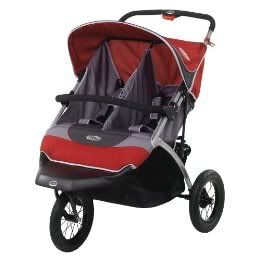 So. Internet. Any advice?